handmade on Sydney's northern beaches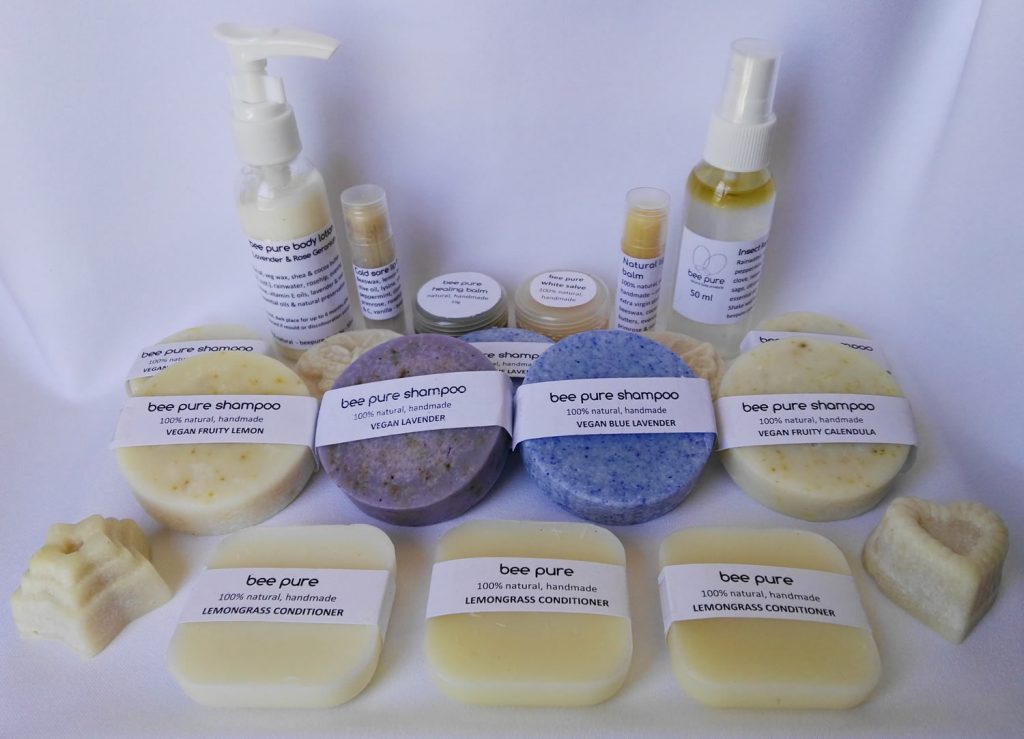 bee pure makes solid shampoos and solid conditioners, as well as other pure, natural body products. bee pure is committed to providing natural products for the whole family to use safely. Our products are eco friendly. We use pure, natural ingredients with no harmful chemicals. We use natural colourants and essential oils for fragrances, however, some of our products may contain a mild fragrance. We use minimal packaging for our products and encourage recycling.
bee pure is based on Sydney's northern beaches. Our products are pure and natural and good for the planet. Our solid shampoos and solid conditioners are mailed to you in eco friendly cardboard mailer boxes to protect the product.

Our solid shampoos and solid hair conditioner bars require no special packaging and there is no bottle or container to throw away – click here to view our products …
Did you know that 500 million shampoo bottles end up in landfill every year?
We are trying limit the amount of plastic being used by using recyclable packaging wherever possible.
The solid shampoo can also be used as a gentle soap for the whole body.
The solid hair conditioner is very economical and lasts for a couple of months, even with regular use.
Perfect for travel – no mess, no spills and non liquid – great for hand luggage.
Our solid shampoo bars are handmade from pure, natural ingredients using the finest oils, waxes, butters and fragrances. They are made using the cold process soap making method.
Our solid shampoo bars are packed with special ingredients such as castor oil, sesame oil, camomile, green tea, amla, turmeric, etc to help with hair conditions like psoriasis, dandruff, alopecia, dermatitis, eczema and sensitive skin. You can choose from unscented, herbal or lightly floral scented bars. They are rich in moisturising oils and generate lots of fluffy lather, cleaning and conditioning your hair.
Many commercially made shampoos contain harmful ingredients that are not good for humans or the environment. Some even contain ingredients that are potentially carcinogenic. If you care about your family, your health and the environment, it's time you swapped to solid shampoos and solid hair conditioners.
After all, you're worth it.
With a solid shampoo bar there is no waste. Solid shampoo bars are perfect for the frequent traveller, kids (who can be careless with liquid shampoo), guys (who like to use one product for their whole body) and anyone who is interested in a natural alternative. The packaging is minimal and there is no bottle to dispose of, thereby reducing landfill.
The same applies for a solid hair conditioner bar. It is a great size for travel and can be easily packed into hand luggage without worrying about spills, mess or liquid limits.
We source our ingredients from within Australia (where possible), keeping it local.
Our body lotions and skin creams are made from the finest ingredients to nourish your skin and pamper you from the outside in.
our skin is the largest organ in the body
our skin absorbs whatever we apply to it
most commercial skin and hair products contain harsh chemicals and preservatives
be kind to your skin and nourish it with pure, natural products
your whole body will benefit
Every day our skin is exposed to harsh treatment from the environment. If you are health conscious, you will also be concerned about what you put on your skin. Your skin absorbs whatever you apply to it, so why not feed it the very best ingredients? Our products contain vitamins and essential oils for additional health benefits.
Scented body products also have the capacity to change our moods. Fragrances and essential oils have been used since the beginning of time to raise our spirits and alleviate stress, depression, aches and pains.
We use the finest fragrances and essential oils in our lotions, creams, shampoos and conditioners to provide an aromatherapeutic effect.
We use beeswax in our body lotions and balms. Beeswax has wonderful healing properties and it softens the skin and forms a protective barrier.